5.5 Configuration backup
One of the use cases for Veeam Cloud Connect is also the use of Cloud repositories as target for Veeam Backup & Replication configuration backups. Thanks to this option, service providers can offer to their tenants a complete protection against catastrophic damages to their Veeam installation; by storing the configuration backup into Veeam Cloud Connect, and entire Veeam Backup & Replication system can we reconfigured by simply retrieving the configuration backup from the remote location and then applying it to a fresh installation.
Assign a simple repository to tenants
With the support of SOBR groups arrived in Veeam Cloud Connect v9.5, it makes nowadays little sense to assign simple repositories to tenants. However, Configuration backup doesn't work with SOBR. If a tenant tries to send this type of backup to a cloud repository backed by SOBR, he will receive an error:

5.24: Configuration backup cannot be sent to SOBR cloud repository
for this reason, if a provider wants to offer backup services also for Configuration backups, at least one of the offered cloud repositories needs to be backed by a simple repository.
In this example, we have one SOBR group and one Linux simple repository. Using both, the provider has created two cloud repositories for the tenant: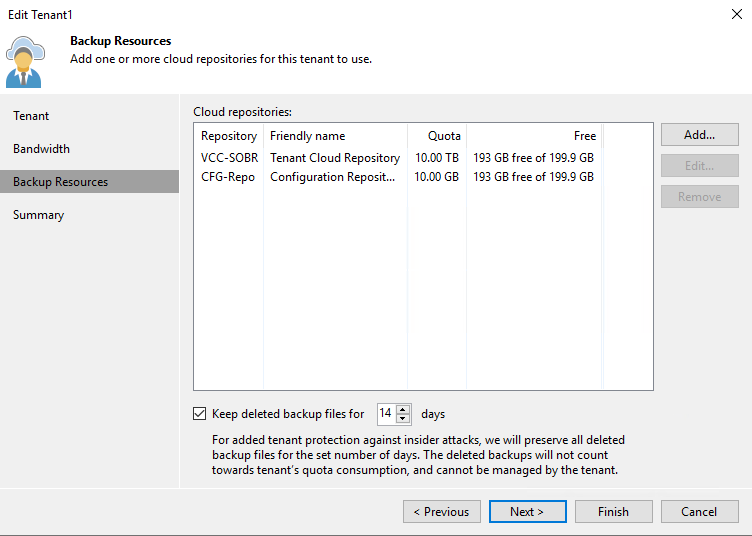 5.25: Both SOBR and simple repositories are used for this tenant
The friendly name has been used to explain to the tenant the purpose of both cloud repositories, and also the size of the Configuration repository has been kept low to avoid that any virtual machine could be stored here, while the space is enough for configuration backups.
The tenant can select the dedicated cloud repository as a target for Configuration backups: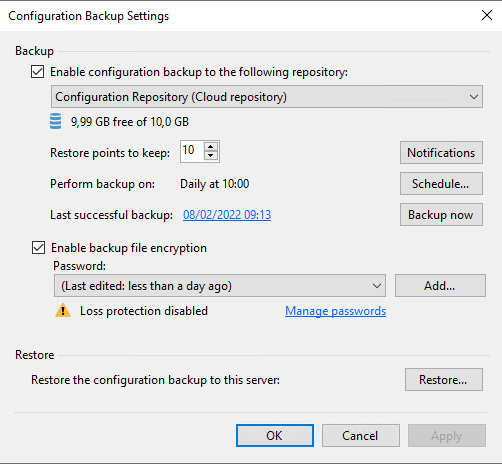 5.26: Configuration backup sent to Veeam Cloud Connect
The configuration file is ultimately stored in the Cloud Repository.